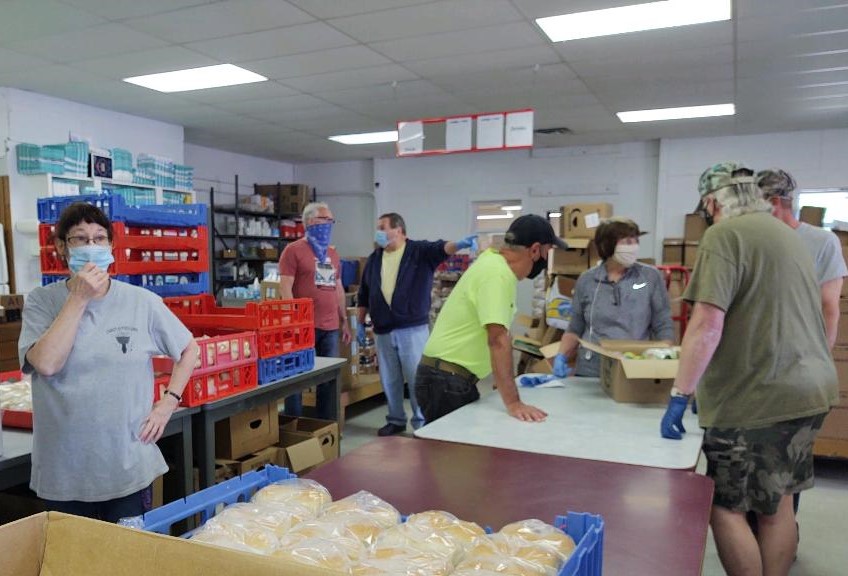 ECCF Grants Support Christian Food Bank since 2006
ECCF: 20 Years: celebrating our past ~ inspiring our future
ECCF Grants Support Christian Food Bank since 2006
The Elk County Community Foundation (ECCF) has been a steady supporter of the St. Marys Christian Food Bank (CFB) with over $114,000 in grants awarded from a variety of funds administered by the foundation since 2006. The food bank is greatly appreciated, well utilized, and generously supported by so many individuals and organizations in our community.
Over the years, grants from the Elk County Community Foundation have provided funding for various needs including holiday foods and special baskets, technology updates, and a storage shed. The organization also holds its own Endowment Fund at the Community Foundation that is available to provide them with assistance for operating expenses and other needs.
A majority of the Community Foundation grants, a total of $99,800, were awarded to the food bank from the Harrison & Muriel Dauer Stackpole Family Fund. This donor-advised fund has provided dollars to many non-profit organizations for projects that benefit area residents since it was first established in 2003. In this pandemic year, the family is focused on supporting those agencies that serve children, the elderly, and those with disabilities, in both the education and healthcare fields. Agencies are encouraged to contact the foundation about their needs during this time.
The food bank is a vital organization within the community, especially during times like we are currently experiencing. Our area has been impacted by multiple layoffs due to the coronavirus pandemic. They are currently serving an average of 140-150 families each week through their drive-through distribution held on Thursdays from 1 to 3 p.m. The size of the food boxes distributed to families is determined by the number of persons residing in the household. To be eligible, families must reside within the St Mary's area school district and meet federal income guidelines.
In addition to food donated from individuals, food drives and farmers, CNB purchases food locally from area grocery stores and from Second Harvest in Erie through the National Feed America Program. They gratefully receive food donations from Walmart twice a week, and once a week from Sheetz. Local churches, organizations, social clubs, businesses, and individuals contribute financially to help feed those in need. Many have stepped forward with generous donations during the past few months. These donations from the community are vital in keeping the food bank operating both now, and on a regular basis.
The organization is a charitable, non-profit corporation, founded in 1983 by a group of Christian women from the Saint Marys area. It is governed by a 15-member board of directors and is entirely operated by over 120 volunteers.
Volunteers are the wind beneath the wings of the Christian Food Bank. Georgia Wagner, Board President, stated, "Our volunteers are a very devoted, supportive group. They come ready to serve and have become like family to each other. Some of our great volunteers are also recipients who volunteer as their way of giving back. When they first started they were shy and quiet, but now you see them walking taller, knowing they are helping their community."
The Board of the Christian Food Bank is made up of a diverse group of local residents.  Georgia said, "They are so amazing. Our board offers many talents ranging from a background in education, industry, and medicine, to finance and farming. They all have something special to offer in keeping the food bank running smoothly."
Individuals who wish to support the Christian Food Bank through the Community Foundation can donate to the St. Marys Christian Food Bank Fund at the Elk County Community Foundation at PO Box 934, St. Marys, PA 15857. The Elk County Community Foundation is a tax-exempt charitable organization that provides grant making support for the needs of our local communities from funds that it maintains and administers on behalf of multiple donors. As a public charity, the Community Foundation also seeks support from the general public to help grow and maintain general community development funds. For more information visit their website at www.elkcountyfoundation.org or call the office at 834.2125.
https://elkcountyfoundation.org/wp-content/uploads/2020/06/Christain-Food-Bank-May-2020.jpg
576
848
https://elkcountyfoundation.org/wp-content/uploads/2021/01/logo-1.svg
2020-06-17 15:49:53
2020-06-17 15:51:19
ECCF Grants Support Christian Food Bank since 2006