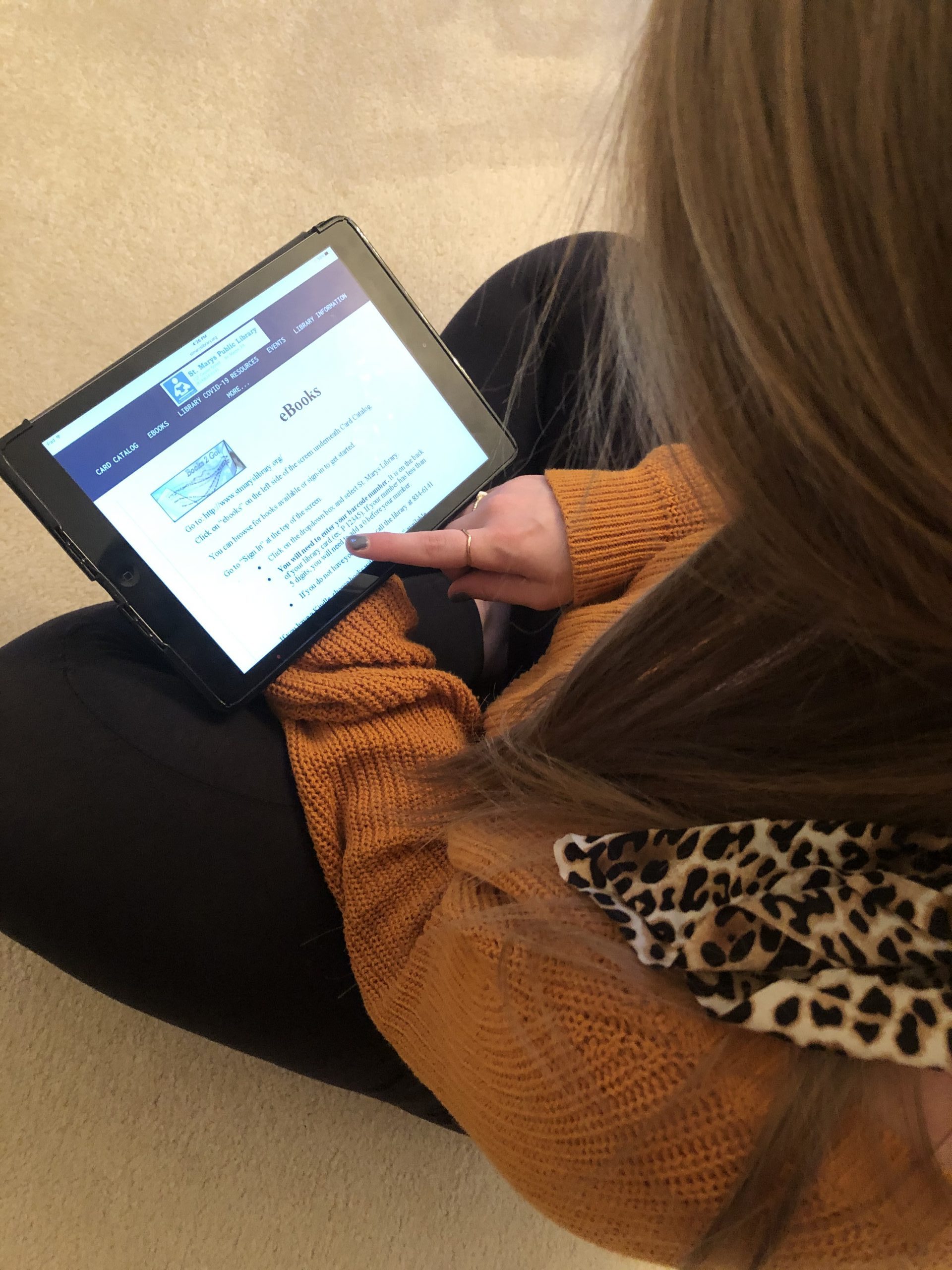 $4,000 grant in 2011 brought electronic books to our area
ECCF: 20 Years: celebrating our past ~ inspiring our future
Photo: In 2011, very few people in our area knew much about e-books. That changed when the St. Marys Public Library used a $4,000 grant from ECCF's Harrison and Muriel Dauer Stackpole Family Fund to initiate this service in our community. Today, this popular method of reading is enjoyed by thousands of area residents that download their books to their electronic device compliments of our local library.
$4,000 grant in 2011 brought electronic books to our area
Just one decade ago, many people in our area were not familiar with e-books. In 2011, with a look to the future, the staff and board of the St. Marys Public Library requested and received a $4,000 grant from the Harrison and Muriel Dauer Stackpole Family Fund, a fund administered by the Elk County Community Foundation. This grant provided the needed dollars for a project that would bring free electronic books and audio downloads to the St. Marys Library. Currently, about 50% of St. Marys residents have an active library card. Library services are also available to Fox Township and Bennett's Valley citizens.
Short for electronic book, an e-book is a book published in an electronic format. It allows for instant access to a book by downloading it over the Internet. The book can be read on a computer, e-reader (e.g., the Amazon Kindle), Ipad, smartphone, or tablet. Audiobooks can be listened to on your electronic device or in your car.
According to Leslie Swope, St. Marys Public Library Director, the library normally has 6,000 e-books and audiobooks that circulate. Since Covid19 closed the library to the public, they have added 4,000 more e-books to their collection to answer the demand for reading material. Recently their Seneca Library District (Elk, McKean, Forest, Cameron) added a new feature, joining with the Oil Creek Library District (Jefferson, Clarion, Venango) to share books and offer even more of a reading selection.
Leslie stated, "E-books and audiobooks are actually about four times the cost of a print copy of a book since they must be purchased through one of only a couple platform vendors. But the convenience is definitely worth the cost." With e-books, you can customize how you read, the book layout, and lighting. You can carry hundreds of books with you on something thinner than most magazines. It's possible to download a book anywhere and anytime, and you can adjust the font size and style to your liking which is a huge advantage to anyone who would benefit from a large print type of book.
In addition to their electronic books, the library has many things they offer that most people are unaware of. Leslie encourages people to explore their website at www.stmaryslibrary.org. The website includes complete instructions for joining the library and downloadable instructions for signing up to access e-books on your device. The library welcomes emails to library@stmaryslibrary.org with any questions on library services.
The Harrison and Muriel Dauer Stackpole Family Fund was established by the family to support the philanthropic causes that were important to both Harrison and Muriel. This donor-advised fund has provided dollars to many non-profit organizations for projects that benefit area residents since it was first established in 2003. In this pandemic year, the family is focused on supporting those agencies that serve children, the elderly, and those with disabilities, in both the education and healthcare fields. Agencies are encouraged to contact the foundation about their needs during this time.
The Elk County Community Foundation is a tax-exempt charitable organization that provides grantmaking support for the needs of our local communities from funds that it maintains and administers on behalf of multiple donors. As a public charity, the Community Foundations also seeks support from the general public to help grow and maintain general community development funds. For more information visit their website at www.elkcountyfoundation.org or call the office at 834.2125.
https://elkcountyfoundation.org/wp-content/uploads/2020/05/Photo-Electronic-books-scaled-e1589552790885.jpg
2560
1920
https://elkcountyfoundation.org/wp-content/uploads/2021/01/logo-1.svg
2020-05-15 14:28:04
2020-05-15 14:30:50
$4,000 grant in 2011 brought electronic books to our area