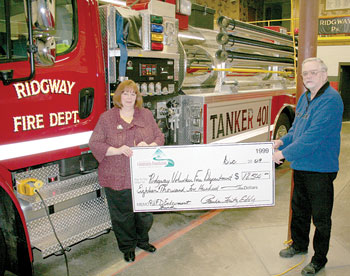 Ridgway Fire Department Charitable Fund Offers Long-Term Security
ECCF: 20 Years: celebrating our past ~ inspiring our future
This is the 11th in a series of articles on the Elk County Community Foundation (ECCF) during its 20th anniversary year, highlighting its history and impact in the community
Ridgway Fire Department Charitable Fund Offers Long-Term Security
ST. MARYS: In 2009, the Elk County Community Foundation (ECCF) Board of Directors approved a grant to the Ridgway Volunteer Fire Department for $18,500 for hose and equipment for their new tanker. This grant was funded by the Ridgway Volunteer Fire Department Charitable Fund, a Designated Fund that was established in 2006 by Sara-Jane Stackpole. Sara-Jane was a generous philanthropist who looked to support important organizations serving the community she cared about. Her purpose with this charitable contribution was to help ensure the long-term security of the fire department that provides such a vital service to her community.
When a donor sets up a new fund they have a choice of various types of funds to best meet their philanthropic goals. A Designated Fund allows a donor to direct their gift to a specific agency or purpose. Almost any 501(c)(3) nonprofit organization may be designated to receive support for its mission. With a designated fund, the donor identifies the recipient(s) they wish to benefit through their gift, and our staff manages the annual distribution of funds from the endowment. A designated recipient may request a percentage distribution of their fund each year if they desire, but may also choose to accumulate this amount from year to year to build up funding for larger projects. Most funds are designed to allow the organization to receive a gift annually, forever.
Over the years, the fire department has benefited from $190,671 in grants from the Ridgway Volunteer Fire Department Charitable Fund for various projects including dollars to assist with a rescue-pumper truck, hose replacements, roof repairs, carnival grounds restrooms, and the purchase of additional air packs. The Community Foundation administers the fund with all grants approved by ECCF's Board of Directors.
Along with generous support from the community, the Ridgway Fire Department has also benefited from a 2019 grant for $3,250 from the Jeff and Sonya Marzella Donor Advised Fund for the purchase of Class D fire extinguishers.
Elk County Community Foundation is a tax-exempt charitable organization that provides grantmaking support for the needs of our local communities from 172 funds that it maintains and administers on behalf of multiple donors. As a public charity, the Community Foundation also seeks support from the general public to help grow and maintain general community development funds. For more information visit their website at www.elkcountyfoundation.org or call the office at 834.2125.
Photo: In 2009, Mike Plaster of the Ridgway Volunteer Fire Department accepted a $18,500 distribution from the organization's charitable fund from Paula Fritz Eddy, ECCF Executive Director.
https://elkcountyfoundation.org/wp-content/uploads/2020/07/11-photo-2-26-ridgwayfire.jpg
276
350
https://elkcountyfoundation.org/wp-content/uploads/2021/01/logo-1.svg
2020-07-29 18:13:41
2020-07-29 18:13:41
Ridgway Fire Department Charitable Fund Offers Long-Term Security