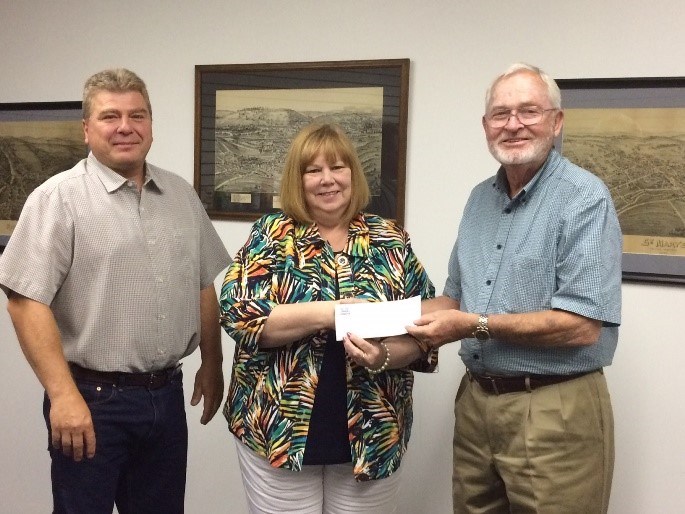 STEM Fund Benefits Area Schools
ECCF: 20 Years: celebrating our past ~ inspiring our future.  This is the 12th in a series of articles on the Elk County Community Foundation (ECCF) during its 20th anniversary year, highlighting its history and impact in the community
STEM Fund Benefits Area Schools
ST. MARYS: The need for competency in science, technology, engineering and math (STEM) skills is not only increasingly important for success in the workforce but also to navigate the modern world. A new STEM Education Fund was established in 2016 at the Elk County Community Foundation. Arlan Clayton from Sarasota Florida initiated the idea for the fund, as he had been involved with the STEM program through the Gulf Coast Community Foundation. Clayton had operated a successful manufacturing business in our community and wanted to provide meaningful, educational assistance in the communities where he had operated his businesses. Tom Jesberger, a new ECCF board member at that time, now current Board President, took an interest in the fund and spear headed working with the schools, as well as making a donation.
Local county schools received $100,000 of grant funding for STEM education. The $25,000 given to each school was intended to enhance or create a STEM lab at the middle schools level. Mr. Clayton felt strongly that this age level is when students begin to explore their career choices. He wanted to see more students exposed to the Sciences, Technology, Engineering and Math (STEM) that involved critical thinking, problem solving, teamwork, self-direction and career development.
Johnsonburg Area School District used the grant money to purchase a TI-Nspire teacher pack and user system, equipment such as software, probes, and sensors, tables, chairs a projector and a teacher computer. Ridgway Area School District used the grant to purchase movable tables, chairs, cabinets, SmartBoards, Chromebooks and
TI-NSPIRES calculators to enhance the school's new STEM lab. St. Marys Catholic Middle School's STEM initiatives included upgrading lab space in a classroom and purchasing new iPads, the TI-Nspire App for the iPads, Vernier Equipment, establishing a Robotics Elective Class and curricular materials. St. Marys Area School District redesigned existing labs to support them with sustainable STEM tools and also purchased Chromebooks, calculators and numerous aps including a health monitoring program that student study their physical health and well-being.
Tragically, Arlan Clayton passed away as a result of an accident shortly after starting his fund. Mr. Clayton left a lasting legacy in Elk County with his investment in STEM education. Tom Jesberger has continued his interest in promoting STEM education in our schools, and serves as the current President of the Elk County Community Foundation's Board of Directors.
The Elk County Community Foundation Board of Directors is made up of a broad-based group of dedicated volunteers who lead the foundation through their expertise, their knowledge of our communities, and their passionate belief in the power of philanthropy to change lives. ECCF provides the administrative and investment management services that make it easy for donors to accomplish their charitable wishes with their tax deductible donations while they improve the quality of life in our communities. For more information, visit ECCF's website at www.elkcountyfoundation.org or call the office at 834.2125.
Photo: Tom Jesberger and Paula Eddy gratefully accept STEM funds from the late Arlan Clayton.
https://elkcountyfoundation.org/wp-content/uploads/2020/08/STEM-pic.web-2.jpg
514
685
https://elkcountyfoundation.org/wp-content/uploads/2021/01/logo-1.svg
2020-08-14 16:39:55
2020-08-14 16:40:47
STEM Fund Benefits Area Schools