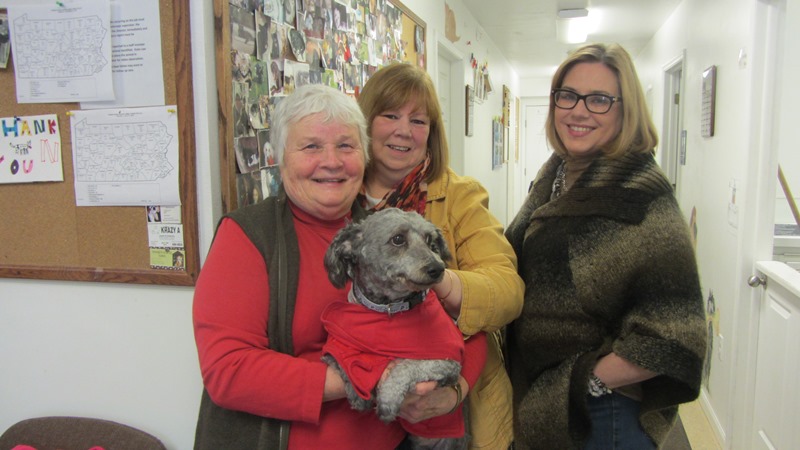 New Fund Established to Support Humane Society
Veronica Conrad and her daughter, Heather have been long time volunteers at the Elk County Human Society and together they recently established an endowed fund at the Elk County Community Foundation. The Animal Emergency Care Fund was established to provide shelter animals with life threating medical care.
When the Humane Society formed over 10 years ago, it immediately became clear that veterinary bills were to become a huge part of their operating costs. Local veterinarians have always been generous in donating time and supplies to area animals in need, but as the shelter grew, so did the need for funds to help rehabilitate some of the most serious cases that have been brought in by humane officers. "I don't think anyone was really prepared for some of the more serious abuse cases that came through the shelter doors" commented Veronica. Seeing an animal that's been neglected, starved, beaten, shot, or hit by a car is always terrible, but it's incredibly rewarding to see those animals transformed by veterinarians, shelter staff and volunteers into loving pets looking for a new chance at a happy life. There is always a need for help, and there is always someone willing to offer that help, but medical costs can often be a problem when tough decisions need to be made.
Frenchie is a prime example of an animal that will benefit from this new fund. He was never abused or neglected, but Frenchie's human companion Dr. Parlavecchio, died unexpectedly on Easter Day, 2014 and Frenchie suddenly found himself at the Shelter. While he was still trying to settle in, it was discovered that he had kidney stones and needed immediate emergency surgery. After recovering from surgery, he also suffered from some minor medical issues. Thanks to the patience and care of everyone involved with Frenchie, he is now available for adoption to a new forever home. If you think Frenchie is the dog for you, call the Elk County Humane Society at 834-3247 to see if he's a match. Or, stop by and check out all of the other great animals there just waiting for their second chance!
If you, or someone you know, is interested in helping the Human Society with these kinds of special emergencies you can get more information about making a contribution to the Animal Emergency Care Fund by contacting Paula Fritz Eddy, Executive Director at Community Foundation.
The mission of the Elk County Community Foundation is to strengthen our region through development, stewardship and grant making as donors achieve their philanthropic goals. Its vision is to connect people who care with causes that matter. The Foundation assists donors who are interested in starting a fund to benefit nearly any charitable organization or cause that they want to support, whether as a named fund or in the memory of a deceased family member or friend. The Animal Emergency Care Fund will provide shelter animals with life threating medical care for years to come. It is one of 119 different funds the Foundation manages. If interested learning more about the Foundation, people are encouraged to contact them by calling 814-834-2125 or visiting its website at www.elkcountyfoundation.com.
Pictured with "Frenchie" R to L
Veronica Conrad, "Frenchie", Paula Fritz Eddy, and Heather Conrad
https://elkcountyfoundation.org/wp-content/uploads/2015/02/Conrads.web_.jpg
450
800
https://elkcountyfoundation.org/wp-content/uploads/2021/01/logo-1.svg
2015-02-10 10:06:27
2018-07-02 06:33:43
New Fund Established to Support Humane Society