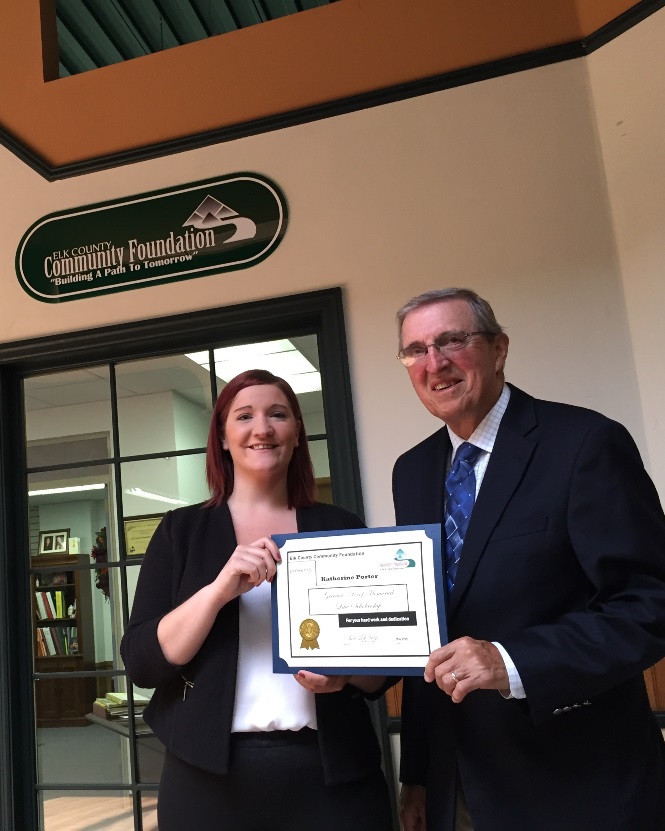 Griener/Roof Scholarship Awared
Katherine Porter, left, recently received the Greiner/Roof Memorial Law Scholarship for 2016 from Jake Meyer, on right who is the President of the Elk County Community Foundation. Katherine attends Ohio Northern University and will be graduating in 2017. This scholarship is awarded to an applicant who has been accepted to or is in attendance of an accredited law school. The candidate must maintain their primary residence in Elk or Cameron County or be a graduate of one of the five high schools located in the two counties. A proposed recipient's academic standing and achievement, participation in extracurricular activities and general life experience will be considered. The Greiner/Roof Memorial Law Scholarship was created in memory of the Honorable Paul B. Greiner and the Honorable Vernon D. Roof, past President Judges of the 59th Judicial District of Pennsylvania. Judge Greiner served as President Judge from 1964 until 1986, after which he served as a senior judge until his death at age 83 in 1999. Judge Roof's tenure on the bench was much shorter, as he served as President Judge from 1996 until 2002, when he died at age 51. Both Judge Greiner and Judge Roof were respected and renowned as fair and impartial jurists not only in Elk and Cameron Counties, but throughout the Commonwealth.
Anyone interested in establishing a scholarship can contact the Foundation at 814-834-2125 or get more information from the website, www.elkcountyfoundation.com.
https://elkcountyfoundation.org/wp-content/uploads/2018/06/Roof.web_.jpg
831
665
https://elkcountyfoundation.org/wp-content/uploads/2021/01/logo-1.svg
2016-06-30 10:41:18
2018-07-02 06:33:42
Griener/Roof Scholarship Awared