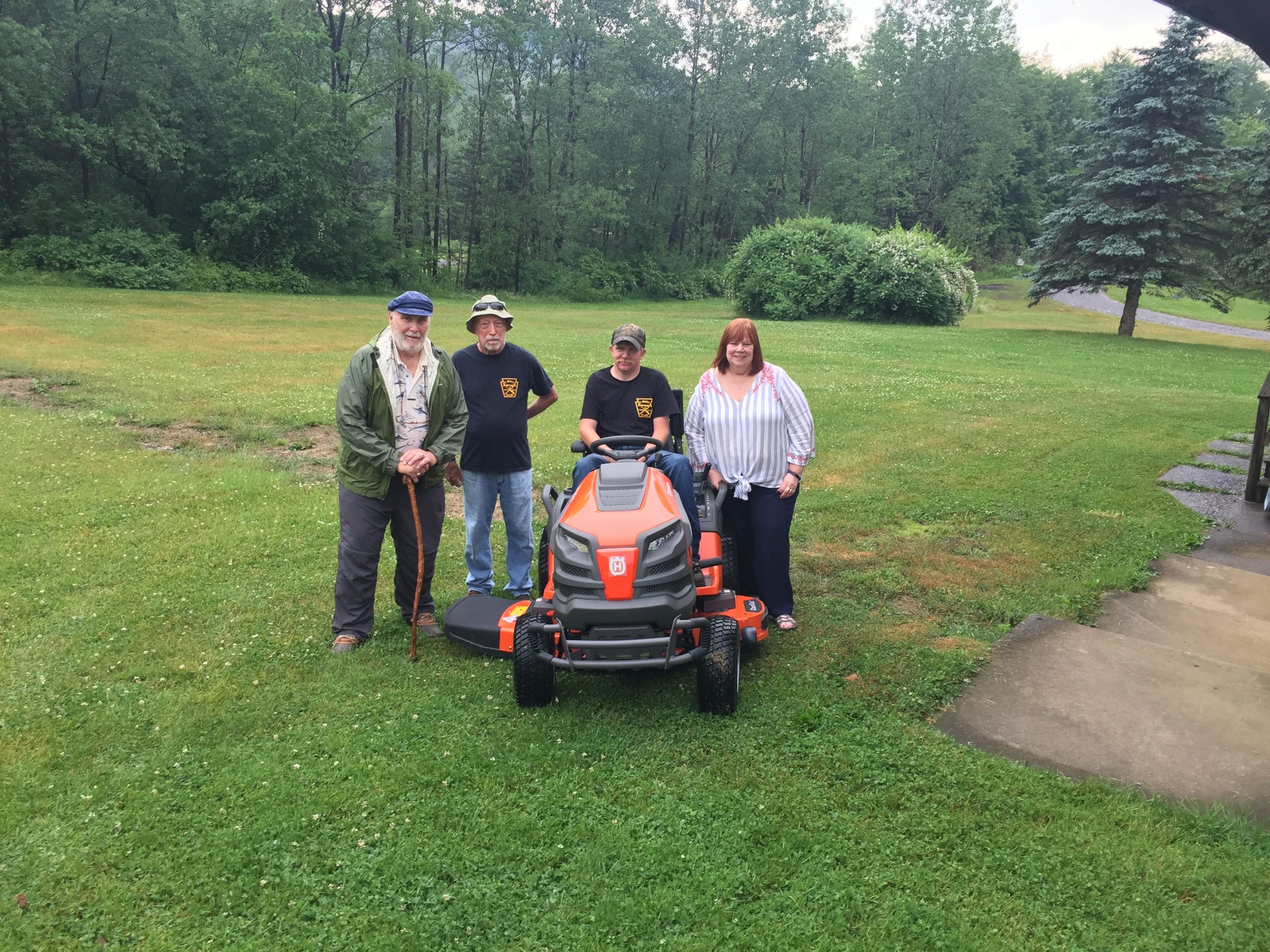 Sportsmen's Club Receives Grant for New Equipment
Sportsmen's Club Receives Grant for New Equipment.
The Harrison and Muriel Dauer Stackpole Family Fund, a donor advised fund at the Elk County Community Foundation, recently made a grant award to the St. Marys Sportsmen's Club.  The award helped fund a new riding lawn mower.  Recently, Paula Fritz Eddy, on right, Executive Director of the Community Foundation and Dr. William Conrad, on the left, Advisory member to the Stackpole Family Fund visited the Sportsmen's Club to see their new equipment.   Jerry Olson, board director, standing and Dan Caskey operator of the mower and honorary director were anxious to show them the new Husqvarna mower purchased from Steve's Lawnmower Sales and Service.
The Club was in need of a new riding mower to help maintain the 8 to 10 acres of lawn they cut.   Approximately 20-25 volunteer hours per week is spent mowing grass and maintaining the equipment and grounds. The Sportsmen's Club was organized in 1935 for the promotion of all types of hunting and fishing sports, as well as shooting sports.   The club also encourages the promotion of conservation of fish and wildlife.    The Club is actively involved in local hunter safety classes, Conservation Leadership School and supports the Elk County Youth Field Day, Elk County Envirothon and maintains and excellent rifle range, trap and skeet field as well as renting the facilities to many other groups, organizations and individuals.
The mission of the Elk County Community Foundation is to strengthen our region through development, stewardship and grant making as donors achieve their philanthropic goals.  Its vision is to connect people who care with causes that matter.  The Foundation assists donors who have an interest in starting a fund to benefit nearly any charitable organization or cause that they have a vested interest in, whether as a named fund or in the memory of a deceased family member or friend. The Harrison and Muriel Dauer Stackpole Family Fund is just one of 170+ funds.  Their next round of grant applications is due July 15th.  The information about their grant criteria can be found on the Community Foundations website; www.elkcountyfoundation.org. With the current needs of COVID related expenses for nonprofit agencies, the Stackpole Family will prioritize this round of awards to focus on the health care and education fields particularly serving the disabled, youth and the elderly population.   Interested parties are encouraged to contact the Foundation for more information either by calling 814-834-2125 or visiting its website.
 Pictured from L to R
Dr. William Conrad, Jerry Olson, Dan Caskey and Paula Fritz Eddy
https://elkcountyfoundation.org/wp-content/uploads/2020/07/sportmens-mower-3-scaled.jpg
1920
2560
https://elkcountyfoundation.org/wp-content/uploads/2021/01/logo-1.svg
2020-07-01 14:06:20
2020-07-01 14:06:54
Sportsmen's Club Receives Grant for New Equipment