Marzella Donor-Advised Fund donates to Hailey's Reading Program Fund at ECCF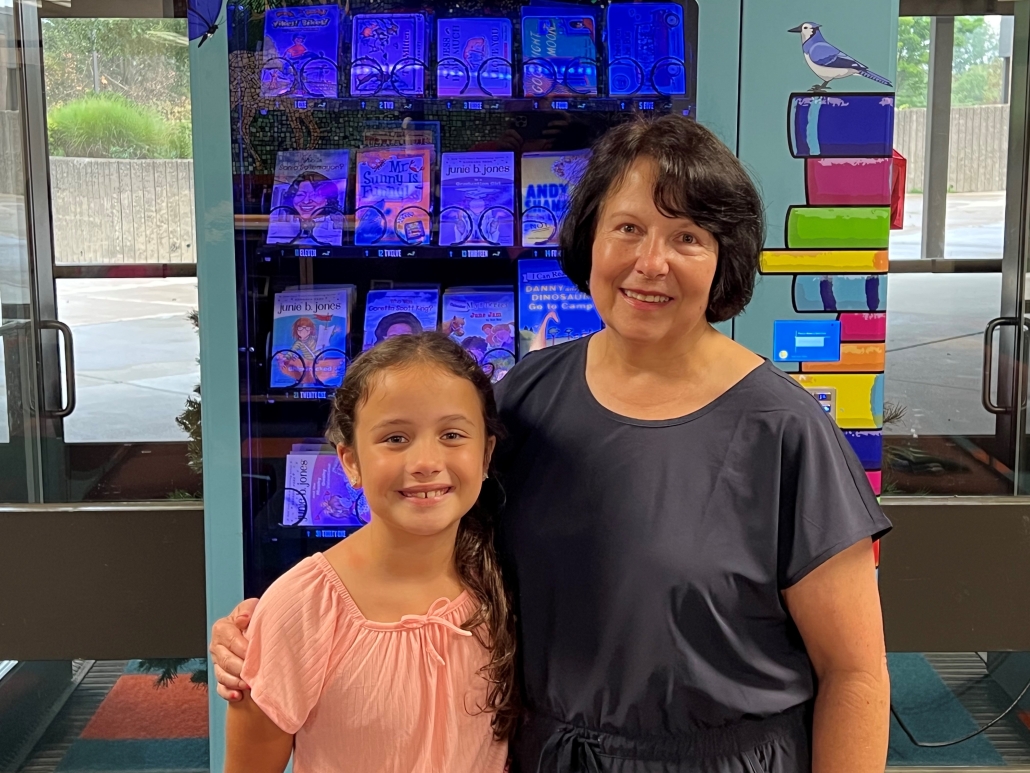 PHOTO: Kinslee MacDonald, 2nd grader at FSG Elementary School and granddaughter of Jeff & Sonya Marzella, stands in front of the Hailey's Reading Program vending machine with teacher, Marcia Raubenstrauch, one of the leaders of the group that established the Hailey's Reading Program Fund.
Marzella Donor-Advised Fund donates to Hailey's Reading Program Fund at ECCF
The Elk County Community Foundation (ECCF) offers a variety of fund options for donors to help them achieve their charitable objectives no matter how big or small. Two of those funds held at ECCF recently interacted when the Jeff and Sonya Marzella Donor Advised fund made a donation to the Hailey's Reading Program Designated Fund, both achieving the purpose of their individual funds.
The Marzella Fund was established at ECCF in 2018. This type of fund is known as a Donor-Advised Fund, where the donors are actively involved with their philanthropy by making grant recommendations to be given to the charities of their choice. The Marzella's chose to make a 2023 donation from their fund to support Hailey's Reading Program at Ridgway's Elementary School.
The Hailey's Reading Program Designated Fund was set up at the Foundation in 2022 by FSG Elementary School faculty and the school's parent teacher organization in memory of Hailey, an avid reader, who had been a student at the school. The proceeds from this fund are designated to go to a specific purpose: to purchase books on behalf of the Ridgway School District to maintain the book vending machine named in Hailey's honor at the elementary school.
The type of fund you establish at the Foundation can be based on your own preferences. You can focus on specific organizations, issues or communities, or create a fund with a flexible purpose.
Donor Advised Funds (DAF), like the Jeff and Sonya Marzella Fund, are for individuals and families who want to support causes that are meaningful to them, while seeking active involvement in choosing their grant recipients. A donor-advised fund can live in perpetuity – or be spent down in a given time frame – according to the wishes of the donor outlined within the agreement established with the Foundation.
Establishing a Designated Fund, like the Hailey's Reading Program Fund, provides you with a wonderful way to give back to one or more specific organizations that have touched your life. You identify the recipient(s) you wish to benefit with your gift, and our staff manages the annual distribution of funds from the endowment. Many designated funds continue to add donations to the fund to help the fund do good work forever.
There are many options for donors who wish to establish a fund including agency endowment, donor advised, designated, and scholarship funds. Contact the Elk County Community Foundation for guidance on what fund would work best for you. The Community Foundation is here to help donors make a lasting and meaningful impact on their community… now and forever. The Elk County Community Foundation and the McKean County Community Foundation are affiliates of the Community Foundation of the Northern Alleghenies.
https://elkcountyfoundation.org/wp-content/uploads/2021/01/logo-1.svg
0
0
Ann
https://elkcountyfoundation.org/wp-content/uploads/2021/01/logo-1.svg
Ann
2023-11-13 14:22:15
2023-11-13 14:22:17
Marzella Donor-Advised Fund donates to Hailey's Reading Program Fund at ECCF