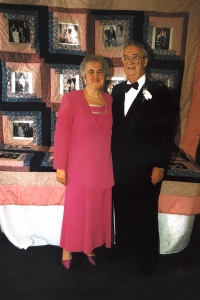 The late Chester and Grace Viola and their family have always embraced the value of Catholic education. Several years ago, the Chester and Grace Viola Tuition Assistance Fund was established for Saint Leo School at the Elk County Community Foundation. These funds have remained largely untouched. However, the family would like to begin to use this fund to help students and their families attend their parish school.
The goal is that each child baptized at St. Leo Church will receive the gift of a $100 voucher to be used towards kindergarten tuition. In order to reach more students both now and in the future, we would like to see this fund grow. If you value Catholic education as Chet and Grace did, the family humbly asks that you consider making a donation in their memory.
The funds raised will be administered by the Community Foundation and used solely for students at Saint Leo School. If you would like to contribute to this tuition assistance fund, please send donations to: Elk County Community Foundation 32 S. St. Marys St., P.O. Box 934, St. Marys, PA 15857. On the memo line, simply put Chester and Grace Viola Fund.   If you wish you can go to the Elk County Community Foundation website and choose DONATE NOW and mention the Chester and Grace Viola Fund when asked on the form.
The children, grandchildren, and great grandchildren of Chet and Grace thank you for your steadfast support of Catholic education at St. Leo School.
The Elk County Community Foundation is a nonprofit organization that manages over 175 endowed funds established by donors to support area nonprofit organizations and scholarships. Donor gifts to the Foundations are tax deductible to the full extent allowed by law.