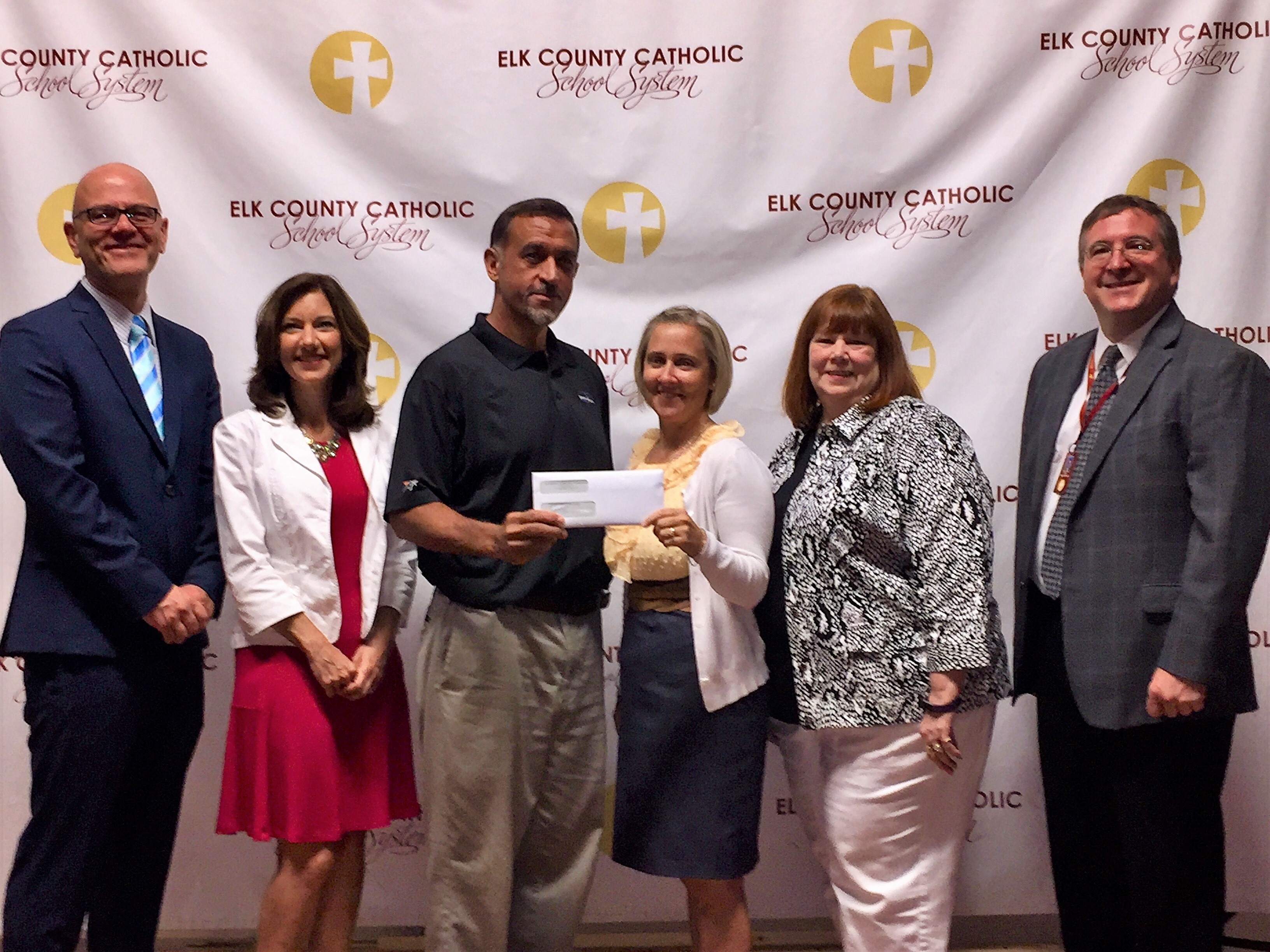 Foundation Supports Catholic Education
Through a number of different funds, the Elk County Community Foundation supports the efforts of the Elk County Catholic School System (ECCSS). There are four funds that contribute to ECCSS in various ways, totaling over $74,000 annually.
The annual distribution of the Harold C. and Marguerite M. Lenze Tuition Assistance Fund and a portion of the Thomas and Mary Rita Valentine Fund provide tuition assistance for students. The remainder of the Valentine Fund as well as a portion of the Edna Geitner Bennett Memorial Fund and the ECCSS Endowment Fund offer support for the general operations of the school system.
"It is critical for ECCSS to ensure that Catholic education remains affordable for the families we serve," said ECCSS president Sam MacDonald. "The grants we receive from the Community Foundation help us provide first-rate programming in academics, extracurricular and faith formation while minimizing tuition increases. Along with other endowments held at the school, many of these dollars help all students while keeping the cost of tuition low."
Both Harold and "Midge" were long-time, generous benefactors of Catholic education in our community. Thomas and Mary Rita had a strong faith and supported the Catholic schools in St. Marys even though they had no children of their own.
The aforementioned are just a few of the 150 funds held at the Elk County Community Foundation that have a story on why people support their community. The mission of the Elk County Community Foundation is to strengthen our region through development, stewardship and grant making as donors achieve their philanthropic goals. The Foundation assists donors who have an interest in starting a fund to benefit nearly any charitable organization or cause that they have a vested interest in, whether as a named fund or in the memory of a deceased family member or friend. Interested parties are encouraged to contact the Community Foundation for more information either by calling 814-834-2125 or visiting its website at www.elkcountyfoundation.com.
Pictured from left to right are John Schneider, Elk County Catholic High School/St. Marys Catholic Middle School principal; Debbie Slay, St. Marys Catholic Elementary School principal; Gennaro Aiello, Elk County Community Foundation president; Sue Jansen, Elk County Catholic School System advancement director; Paula Fritz Eddy, Elk County Community Foundation executive director; and Sam MacDonald, Elk County Catholic School System president.
https://elkcountyfoundation.org/wp-content/uploads/2018/06/ECCSS__-1.jpg
2448
3264
https://elkcountyfoundation.org/wp-content/uploads/2021/01/logo-1.svg
2017-08-08 11:42:25
2018-07-02 06:33:42
Foundation Supports Catholic Education