ECCF grants awarded to Good Samaritan Food Bank
Two funds administered by the Elk County Community Foundation, the Ridgway Borough Charitable Fund and the Harrison & Muriel Dauer Stackpole Fund, each awarded a grant of $5,000 to the Good Samaritan Food Bank (GSFB). Since 1988, GSFB has served Ridgway area families who struggle to provide food for themselves and their families, assisting on average 25-35 families per month.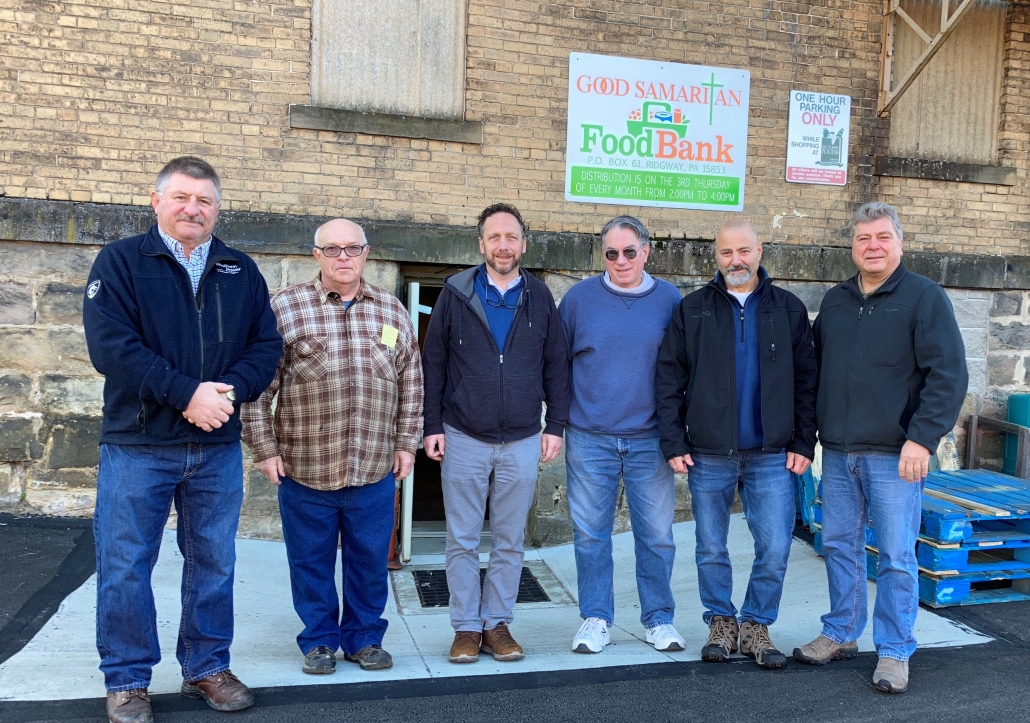 The Good Samaritan Food Bank located at 331 Main Street Ridgway was the main grant requester for the project to improve the food bank access to the K of C building. The K of C provides free rental for the food bank as one of the many services they provide for Ridgway residents. The Good Samaritan Food Bank has been serving Ridgway Residents in need of food assistance since 1988. On average per month the Food Bank assists 35 households, 30 individuals, 26 children and 30 elderly persons. The funding was used to add drainage to the entrance of the building, install new concrete steps and apron, regrade the parking area, and install new paving. The total project was over $16,000 so the additional funds were provided by the Frank Servidea council, GSFB, and a generous donation from the Ridgway VFW Post 5887.
The Ridgway Borough Charitable Fund, an endowed fund, was established from a gift received from the estate of Sara-Jane Stackpole. The purpose of the fund is to provide support to organizations who contribute to the quality of life of the residents of the Borough of Ridgway.
The Harrison and Muriel Dauer Stackpole Family Fund supports causes and projects that enhance the lives of the people of Elk County. The fund was established by the family of Harrison and Muriel to carry on their legacy of personal involvement and commitment to our local communities.
The Elk County Community Foundation is known for giving scholarships and grants to non-profits in Elk County and surrounding communities. The heart of the foundation's business is helping people, families, groups, and businesses to be philanthropic or charitable. ECCF provides the administrative and investment management services that make it easy for donors to accomplish their charitable wishes with their tax deductible donations while improving the quality of life in our communities.
The Elk County Community Foundation is a nonprofit organization that manages over 186 endowed funds. For more information, call ECCF at 814- 834-2125 or visit their website at www.elkcountyfoundation.org.
https://elkcountyfoundation.org/wp-content/uploads/2021/01/logo-1.svg
0
0
Ann
https://elkcountyfoundation.org/wp-content/uploads/2021/01/logo-1.svg
Ann
2021-12-15 11:08:48
2021-12-15 11:08:49
ECCF grants awarded to Good Samaritan Food Bank