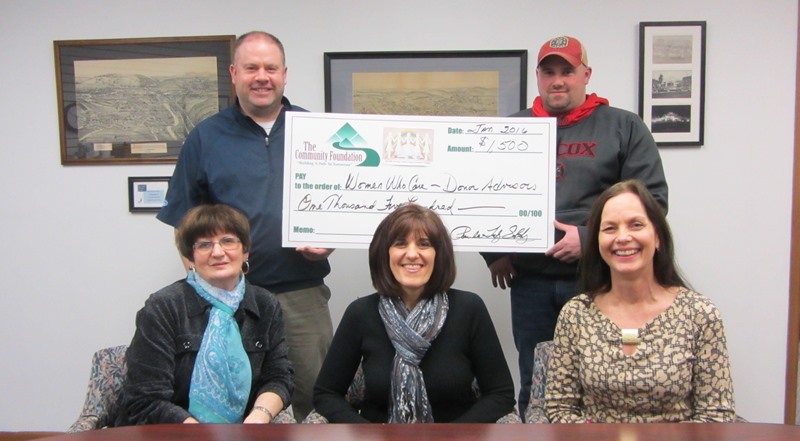 Women Who Care had a "membership drive" for the 2015-16
The Women Who Care (WWC) Steering Committee had a Donor Advisor for a Day "membership drive" for the 2015-16 membership year, that allowed members who registered early to give a grant to a charity of their choice. One new and one renewing member, along with another renewing member who increased their membership level were chosen to give out $500 grants. The Ridgway Little League, Wilcox Volunteer Fire Department and the Johnsonburg Community Center were the grateful recipi…ent of this grants from WWC members Cindy Straub, Rebecca Plowely and Carol Parana, respectively. All of the organization expressed their appreciation for the members choosing their organization for this grant.
Women Who Care, a local group which is a project of the Elk County Community Foundation, is dedicated to addressing the needs of women and families throughout Elk County. Since its inception the membership has given over $100,000 back to the community in the form a grants to local nonprofit organizations. WWC is still accepting members for 2016. Membership year runs from Oct 1, 2015 to September 30, 2016 with membership dues due by June 1, 2016. WWC is currently planning their spring event for April. Check out the Women Who Care Facebook page for more details. Membership commitments are appreciated and welcomed at this time.
Pictured Left to right:
Standing: Bradley Schneider from the Ridgway Little League; and Fred Maletto from Wilcox Volunteer Fire Department;
Sitting: WWC member Carol Parana and Carol Allegretto from the Johnsonburg Community Center and WWC member Rebecca Plowely
https://elkcountyfoundation.org/wp-content/uploads/2018/06/WWC_donor_advisors_2.web_.jpg
441
800
https://elkcountyfoundation.org/wp-content/uploads/2021/01/logo-1.svg
2016-02-04 10:34:31
2018-07-02 06:33:43
Women Who Care had a "membership drive" for the 2015-16