Scholarship funds offer a lesson in caring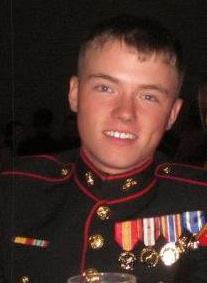 The Elk County Community Foundation (ECCF) manages scholarship funds established by people and organizations with a passion for education, and many times, to honor or remember someone who has made a lasting impact in their lives and their community. ECCF administers 98 such scholarships, and has awarded two million dollars in educational aid to Elk County students in its 20-year history.
Anyone can establish a scholarship for higher education, including businesses, community groups, individuals, or groups of individuals. Scholarships take on many forms with eligibility criteria determined by the donors. These can include academics, financial need, student demographics, geographic, community involvement, overcoming adversity, athletic ability, career choice, etc. There are so many different reasons why people and organizations choose to start a scholarship.
Memorial scholarships are a wonderful way to remember a loved one who has passed. U.S. Marine Corporal Adam M. Wolfel was born in 1991 in St. Marys, the son of Michael and Jane Ritter Wolfel. His family and friends established the Corporal Adam M. Wolfel Memorial Scholarship fund in 2015 to honor Adam's memory with a scholarship to be awarded to a graduating senior that will be attending technical trade educational program. Adam graduated from SMAHS in 2009 and joined the U.S. Marine Corps as a rifleman and machine gunner. His natural leadership qualities were evident throughout his deployments to Marjah, Afghanistan and Okinawa, Japan. After his honorable discharge in 2013, he was employed by Allegheny Electric Service and then enrolled in the Electrical Technology program at the Pennsylvania College of Technology. After his passing in 2014, the family decided to honor Adam's memory with this scholarship established in his name. The Wolfel family remains active in raising awareness in Elk County for PTSD and suicide prevention.
The purpose of a scholarship is sometimes targeted for a specialized area that was meaningful to the person for whom the scholarship is named. Music, the arts, medicine, and trade schools, are some of the areas of interest chosen by scholarship donors. For example, a few of the scholarships established at ECCF are: Taylor Schutz Lady Dutch Basketball, Golumbic Art Award, Michele M. Spence Nursing, Herbert Lenze RASD Marching Band, Nicholas A. Sinibaldi Music, Ram Gridiron Football, Jacqueline M. Renaud National Honor Society, the Greiner/Roof Law scholarship, the Gus and Helen Wolf Memorial Scholarship for St. Vincent College Students, and many more.
Creating a scholarship fund can be a great way to help students realize the value of a good education and reach their educational goals. In 2011, Dr. Francis Grandinetti established the Grandinetti Educational Scholarship Fund. Dr. Grandinetti is the former administrator for the Ridgway Area School District and wanted to help future educators from this school district. The scholarship is awarded to a Ridgway Area High School graduating senior who has been accepted to a university in Pennsylvania as an education major and plans to pursue a career as an elementary or secondary classroom teacher or specialist.
The beginning of the Johnsonburg Alumni & Friend's Scholarship grew out of the group's initial thought to have all graduating classes from Johnsonburg Area High School come together and enjoy the evening with classmates and friends, an idea that became a reality and has met with great success over the years. They also chose to establish an annual scholarship that would be offered to a graduating senior to benefit the student's college funding. The group stated, "the scholarship will give our future graduates a start for their continuing education. We are inspired that our goal will give them opportunity for success."
Many local companies and organizations create scholarships to help increase their philanthropic presence in the areas they serve. ECCF holds scholarship funds established by several American Legions, Rotary Clubs, and Lion Clubs throughout Elk County. The Ridgway Rotary Club stated the purpose of their scholarship, "to recognize and reward students who have demonstrated outstanding service to their school and community. Scholarship winners will be inspired to build goodwill and peace in the world." All of these organizations have a special interest in supporting their youth and are dedicated to providing service to their communities.
Although each of the 98 scholarships at ECCF tells its own story, all of the funds are designed for donors who are interested in helping students of all ages achieve their goals. The Community Foundation makes it easy for individuals, businesses and organizations to establish a scholarship fund. A fund can be created in as little as one meeting, with a short fund agreement, and a single gift. Or a fund can be set up with an initial gift that is added to in the future. A fund can also be started as part as your estate plan. ECCF manages all the administrative details of a donor's fund. Contact the Elk County Community Foundation at 834-2125 or eccf@elkcountyfoundation.org for more information on scholarships.
https://elkcountyfoundation.org/wp-content/uploads/2021/01/logo-1.svg
0
0
Ann
https://elkcountyfoundation.org/wp-content/uploads/2021/01/logo-1.svg
Ann
2020-12-29 16:20:00
2020-12-29 18:27:57
Scholarship funds offer a lesson in caring