Grant awarded to St. Marys Heritage Preservation Group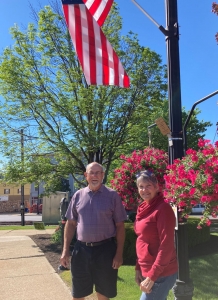 The James and Gloria Straub Memorial Fund of the Elk County Community Foundation (ECCF) awarded a grant for $500 to the St. Marys Heritage Preservation Group towards the flowers that beautify our downtown area each summer. Dan Straub is the advisor for the Straub Memorial Fund and he had the opportunity to talk with the St. Marys Heritage Preservation Group's Board President, Lois Nedzinski after they hung the first batch of flowers for the season. The group is a 501-c-3 organization made up of a small committee of local citizens committed to the beautification of the St. Marys Historic District. Nedzinski said that the group is thankful for the many dedicated volunteers that water and care for the flowers all summer.
The James and Gloria Straub Memorial Fund, a donor advised fund, was one of three funds established by the Straub estate in 2018. One of the main benefits of a donor advised fund is that it allows individuals with philanthropic intent to have their charitable assets professionally managed and distributed to desired causes, while benefiting from the maximum tax deduction.
A donor advised fund allows the donor, or their designated representatives, to play a role in recommending grants over time to non-profit organizations to support causes that are meaningful to them. Based on their recommendations, grants are approved by the Community Foundation's Board of Directors and sent to qualifying nonprofits in the name of their fund.
ECCF works closely with donors to establish a charitable giving fund that best expresses their goals and their values. The Elk County Community Foundation is a nonprofit organization that manages over 175 endowed funds established by donors to support area nonprofit organizations and scholarships. For more information, call the ECCF at 814- 834-2125 or visit their website at www.elkcountyfoundation.org.
https://elkcountyfoundation.org/wp-content/uploads/2021/01/logo-1.svg
0
0
Ann
https://elkcountyfoundation.org/wp-content/uploads/2021/01/logo-1.svg
Ann
2021-05-27 12:46:00
2021-07-13 13:28:56
Grant awarded to St. Marys Heritage Preservation Group