Elk County Community Foundation annual report is available online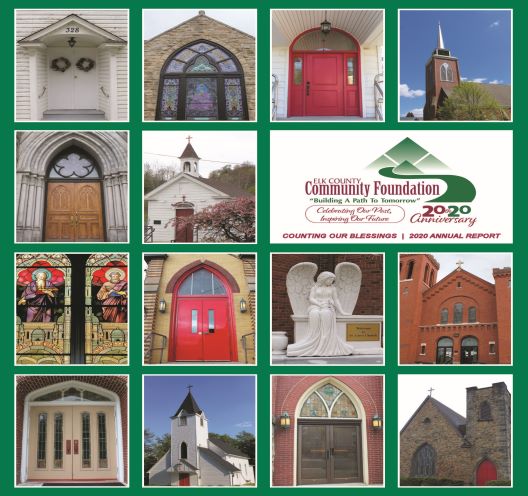 The 2020 Elk County Community Foundation (ECCF) Annual Report celebrates the 20th anniversary of the non-profit foundation. With the theme of "Counting Our Blessings", the cover of the publication features a window pane collage with photos of area churches.
From its beginning in 2000, ECCF has been blessed with the support of charitable-minded individuals, organizations, and businesses that have invested in the future of our communities. The 186 funds established by these generous donors have given over six million dollars back to our communities through grants and scholarships. Tom Jesberger, Board President, stated, "We here at the Foundation are grateful for 20 years of loyal donors, dedicated board members, and strong partnerships with our communities and local non-profits".
The annual report can be found online at www.elkcountyfoundation.org under About/Publications. A free printed copy can be picked up at the foundation office in the Franklin Center located at 32 South St. Marys Street.
Along with a historical timeline, the publication tells the story of donors, different types of funds, and the ways in which these funds have benefited our community through grants to non-profit organizations, schools, and municipalities, as well as through scholarships awarded to hundreds of students.
The Elk County Community Foundation is a non-profit organization that provides the administrative and investment management services that make it easy for donors to accomplish their charitable wishes with their tax deductible donations and to improve the quality of life in our communities. For more information please contact ECCF at 814-834-2125.
inimum of $100 per year. At their annual meeting the membership votes for the projects they want to fund with their annual donations. Since 2009, the organization has given $268,400 back to the community. Membership to WWC is a fun and rewarding way for women to make a real difference in their hometowns.
WWC membership dues for the 2021 granting cycle will be accepted until July 1st. Any woman interested in becoming a member should contact the Elk County Community Foundation office at 814-834-2125 or the Foundation's website at elkcountyfoundation.com.
https://elkcountyfoundation.org/wp-content/uploads/2021/01/logo-1.svg
0
0
Ann
https://elkcountyfoundation.org/wp-content/uploads/2021/01/logo-1.svg
Ann
2021-08-23 12:37:50
2021-08-23 12:51:02
Elk County Community Foundation annual report is available online