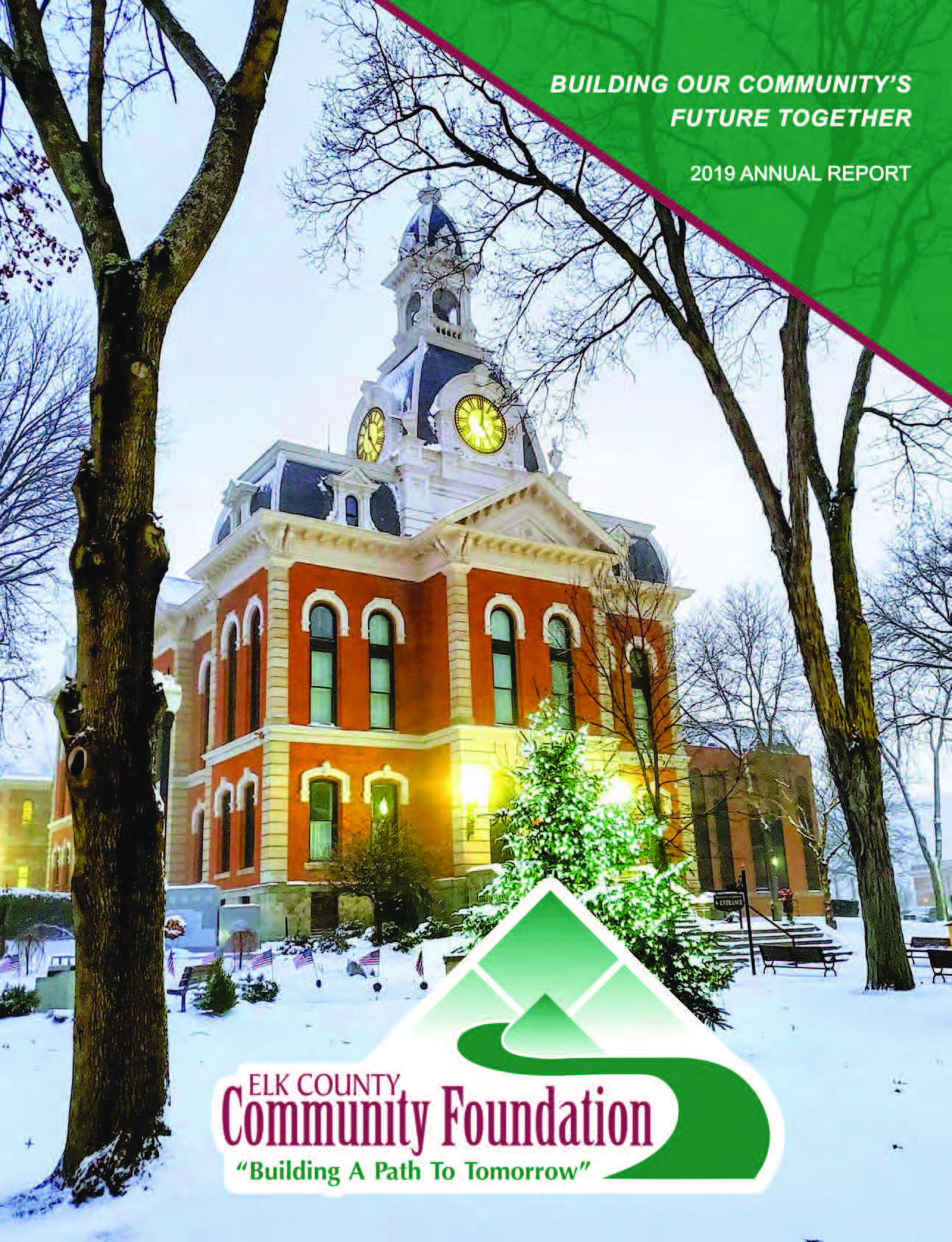 ECCF's Annual Report Card To The Community
ECCF's Annual Report Card to the Community
ECCF: 20 Years: celebrating our past ~ inspiring our future.  This is the 14th in a series of articles on the Elk County Community Foundation (ECCF) during its 20th anniversary year, highlighting its history and impact in the community
ST. MARYS: The Elk County Community Foundation Annual Report tells the story of ECCF's accomplishments of the past year and its impact in the community. Now celebrating its 20th year, the Foundation has carefully recorded its rich history of philanthropic service to the community through its annual reports. The recently published 2019 Annual Report is available to the public by picking up a copy at the Foundation office or reading it online at www.elkcountyfoundation.org.
So the question is, did the Foundation get decent grades on its 2019 report card? You can judge for yourself by looking at the numbers. In 2019, ECCF created 12 new charitable funds; awarded 134 grants, 158 first year scholarships, and 35 renewed scholarships. The Foundation received $394,000 in gifts from donors, and now holds funds totaling nearly $12.9 million dollars. That's quite a record of growth from the $1.9 million noted in the 2004 Annual Report!
The ECCF Annual Report tells what our nonprofit does – who it served over the past year, who its key supporters and donors are, and how it spent its resources. The annual report tells stories of grant funding that supported the Penn Highlands Elk Auxiliary holiday gifts and activities project, equipment for the Snowmobile Association, funding for a pavilion at the Ridgway Community Pool, and a grant to help the Friends of Twin Lakes repair the trail around the lake. These are just a few of the ways in which ECCF spent its resources in 2019, with over $639,000 dollars awarded in grants to non-profits through the year.
New scholarship funds were started by eight families and organizations to support students seeking higher education. Local students were awarded over $170,000 in ECCF scholarships last year.
Close to 250 everyday Elk County women became members of Women Who Care in 2019 and pooled their donations to award $35,000 in grants to 11 schools and non-profits for programs that improved the lives of women and children. Philanthropy in Elk County is alive and well!
As a community 501c3 organization, the ECCF Annual Report presents the opportunity to be candid and transparent about the finances of the foundation and gives a vision of what lies ahead. The purpose of nonprofit organizations is generally to improve quality of life for others at a community, local, state, national, or even global level. These organizations are not dedicated to private or financial gain but to the advancement of public interest. Elk County is blessed with many non-profits that add value to the lives of our residents every day.
The Elk County Community Foundation has been helping individuals and families realize their charitable goals for over 20 years. Through the Foundation, donors can create funds to support causes they care about. Since 2000, the funds created by generous donors have invested $5,334,686 dollars back into our communities through grants awarded. This is quite an amazing number that has made a significant impact on the lives of every resident of Elk County. ECCF provides the administrative and investment management services that make it easy for donors to accomplish their charitable wishes. For more information, visit their website at www.elkcountyfoundation.org or call the office at 834.2125.
https://elkcountyfoundation.org/wp-content/uploads/2020/09/photo-14-2019-ECCF-Annual-Report-cover.jpg
1688
1294
https://elkcountyfoundation.org/wp-content/uploads/2021/01/logo-1.svg
2020-09-18 15:17:18
2020-09-18 15:17:18
ECCF's Annual Report Card To The Community